Trude Storelvmo
Address:
Mailing address: PO Box 208109, New Haven CT 06520-8109
Street address: 210 Whitney Ave, New Haven CT 06511
Bio:
I am an atmospheric scientist, focusing my research on the role of aerosol particles and clouds in Earth's climate. I am particularly interested in how aerosol particles affect climate by acting as cloud condensation nuclei and ice nuclei. I also work on question related to cloud-climate feedback mechanisms and climate engineering involving aerosols and/or clouds.  Aerosol/cloud effects are arguable among the most uncertain and poorly constrained influences on the climate system, and will represent a tremendous challenge to the scientific community in years to come.
RESEARCH NEWS:
May 2017: We have three new papers either published or in press: 1) A commentary in JGR on cloud phase & Earth's energy budget (1st author Greg Cesana), 2) A GRL paper on the indirect effects of dust on paleoclimates, 1st authored by Nav Sagoo, and 3) A paper on the hydrological response to geoengineering, led by former group member Jane Smyth and co-authored by another former group member, Rick Russotto. 
May 2017: Trude traveled to Addis Abeba for a very interesting IPCC AR6 scoping meeting.
April 2017: We are excited that Ulla Klint Heede from Denmark will be joining our research group in the fall - we're a truly international crowd!
January 2017: Trude attended and gave keynote lecture at the Atmospheric Ice Nucleation Conference in Leeds. 
November 2016: Congratulations to Zachary McGraw for passing his qualifying exam!
September 2016: Ivy Tan successfully defended her PhD thesis and moved to NASA GSFC to begin her NASA post doctoral fellowship. Congratulations Ivy! Celebration group dinner at Union League:
August 2016: Jon Egill Kristjansson, a pioneer in the field of aerosol-cloud-climate interactions and Trude's PhD advisor and mentor, died in a tragic climbing accident. He will be sorely missed.
July 2016:Trude and Azusa presented at the International Conference on Clouds and Precipitation in Manchester.
July 2016: Trude and a group of awesome highschool teachers and students went to Steamboat Springs (CO) to visit Storm Peak Laboratory and learn more about aerosols & clouds.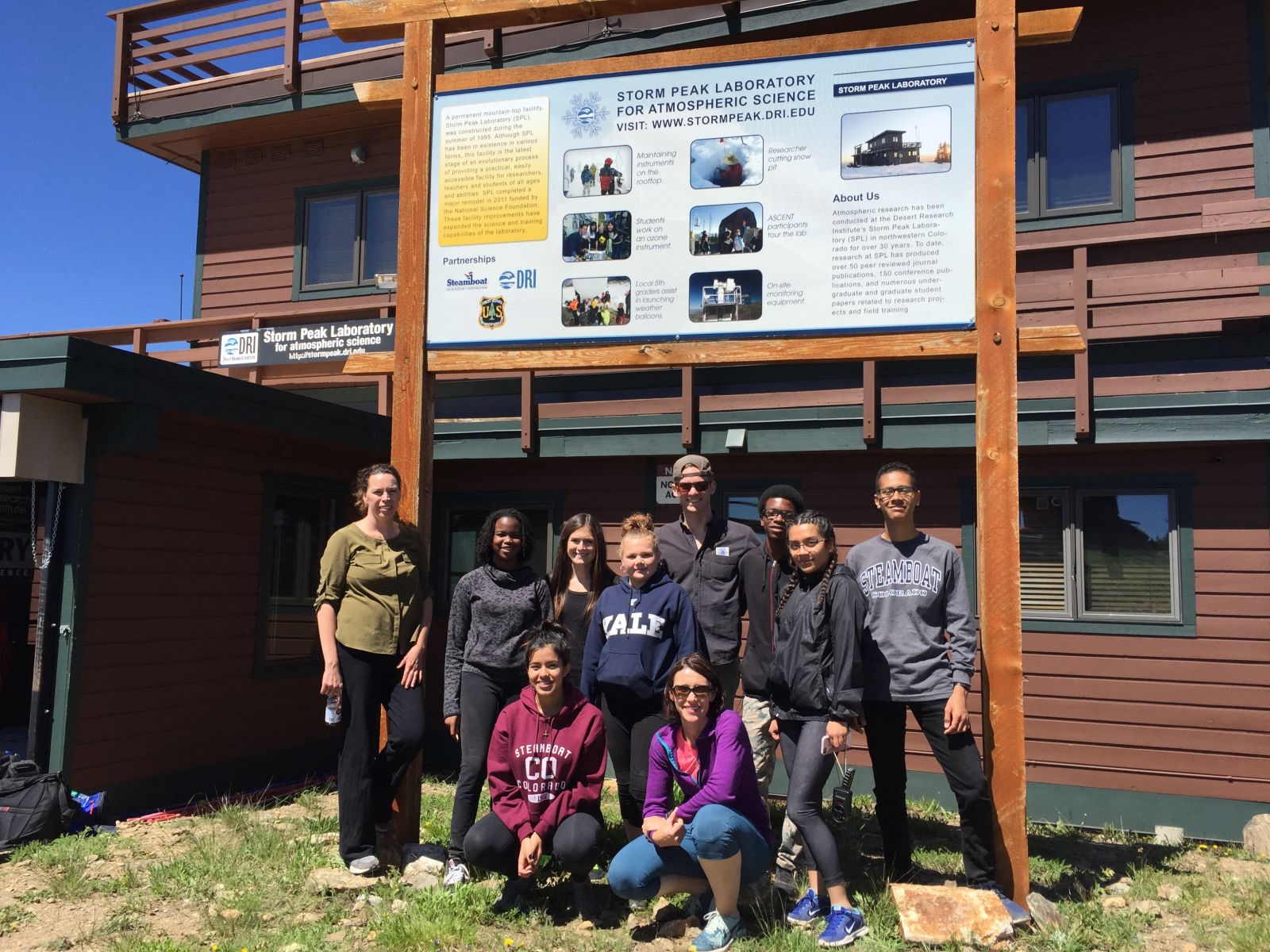 June 2016:Trude attended the CALIPSO-CloudSat workshop in Paris, and the GeoMIP meeting in Oslo.
April 2016: Our paper on the tight relationship between cloud phase and climate sensitivity just came out, see here! Congratulations to Ivy, who is 1st author! Some newspaper articles on the paper: NY Times, Washington Post and The Guardian.  
March 2016: Our interdisciplinary study on the link between aerosol cooling and transient climate sensitivity is finally published, check out the paper itself and a nice article on the study in the Washington Post.
January 2016: Azusa is representing the group at the annual AMS meeting in New Orleans, and will be giving an oral presentation titled Impact of Forest Fire Smoke Aerosols on Deep Convective Clouds in WRF-CHEM Simulations.
December 2015: Trude, Nav and Ivy attended the AGU Fall Meeting in San Francisco, and presented in sessions on mineral dust, mixed-phase clouds and climate sensitivity.
October 2015: We have a new review paper out on the cloud phase feedback, check it out!
August 2015: Nav Sagoo and Zachary McGraw are participating in the Advanced Climate Dynamics Course (ACDC 2015) on Iceland.
July 2015: Trude had an awesome time with New haven Public School students and teachers at Storm Peak Laboratory! Check out some of our instragram pics! Other group members (Azusa & Ivy) attended the always excellent Gordon Research Conference on Radiation and Climate.
June 2015: Busy month! Azusa is participating in the PECAN field campaign, Ivy presented her work at the CFMIP meeting (and just learned that she received an EGU outstanding poster award, congrats!), Zachary is leaving for Denmark to do research at Vestas Wind Systems over the summer, Nav presented her new & exciting results at LDEO, and Trude gave a seminar at NASA GSFC.
May 2015: Congratulations to Azusa Takeishi and Zachary McGraw, who have both received grants from the Yale Institute for Biospheric Studies (YIBS) Grants Program!
April 2015: Trude and Ivy attended the 2015 EGU General Assembly in Vienna, giving presentations in sessions on mixed-phase clouds, climate engineering and Earth's radiation budget.
February 2015: MSc student Ingrid Hanssen is visiting us from Norway. Ingrid will be working on high-latitude cirrus clouds, as observed with lidar at Andøya Space Center.
January 2015: Azusa Takeishi participates in the European Research Course on Atmospheres (ERCA) in Grenoble, France.
January 2015: Trude co-chairs and presents in a session on Climate Engineering at the annual AMS meeting in Phoenix, Arizona.
December 2014: Nav Sagoo, Zachary McGraw and Azusa Takeishi are heading to San Francisco for the AGU Fall Meeting. They'll present their work in sessions on mineral dust, aerosols and deep convection, and The Pliocene.
November 2014: The Philosophical Transactions of the Royal Society has published a Theme Issue on Geoengineering, in which one of our papers on the topic is included.
October 2014: We are overjoyed to have received a generous High Performance Computing grant from NCARs Computational and Information Systems Laboratory (CISL) for use of their powerful cluster Yellowstone!
October 2014: Congratulations to Azusa Takeishi for getting her first paper published in ACPD!
September 2014: Welcome to new group members, post doc Nav Sagoo and graduate student Zachary McGraw!
August 2014: Trude was chair & gave a presentation at the 1st International Geoengineering Conference 
July 2014: Trude and Ivy Tan were presenting their work at the AMS conference on Clouds and Radiation
July 2014: Jane Smyth and Azusa Takeishi are both interns in Vestas Wind Systems
June 2014: Azusa Takeishi is getting exciting field experience in New Zealand!
May 2014: Congratulations to Ivy Tan for getting her paper published in JGR-Atmospheres, and for receiving a NASA NESSF fellowship!
May 2014: Congratulations to Azusa Takeishi for passing her qualifying exam!
April 2014: Congratulations to Trude for her NSF CAREER award!
February 2014: Congratulations to Muge Komurcu on her new post doc position at the University of New Hampshire, and for getting her paper published in JGR-Atmospheres!