Postdocs
Lidya Tarhan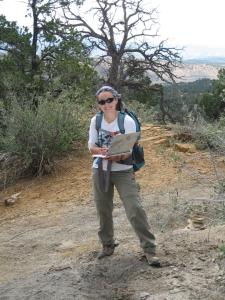 My research interests center upon developing a multidisciplinary understanding of ancient life during key intervals in earth history. I am especially intrigued by the interplay between animals and environments (particularly animal-substrate-microbe interactions) and the role of metazoans as ecosystem engineers in both modern and ancient settings. I am also interested in the processes of fossilization and the role preservational processes play in modifying the stratigraphic records of both ecosystems and environments. My research is heavily field- as well as laboratory-based.
I am currently investigating the biogeochemical, taphonomic and diagenetic pathways responsible for the exceptional silicified preservation of Ediacaran and lower Paleozoic soft-bodied faunas ('Ediacara-style' preservation), using a combination of field-based, paleontological, petrographic, experimental and geochemical techniques.
Other research interests include the advent and development of infaunal mixing by burrowing animals in the early Paleozoic; modern marine microbialite-infauna interactions; Ediacaran taphonomy and paleoecology; turnover between Ediacaran and Cambrian faunas; and the role of environment, taphonomy and tracemaker diversity in the formation, preservation and distribution of trilobite-produced trace fossils such as Rusophycus and Cruziana.
Graduate students
Liz Clark
My research is centered on the study of echinoderm morphology to elucidate the evolutionary history of the group in light of its vast biodiversity, both extant and within the fossil record. I am currently working on understanding the movement capabilities and locomotion of Paleozoic ophiuroids and stylophorans by studying specific aspects of their morphology and using modern analogues. When this study of functionality is put within an evolutionary and ecological context, we will be able to better understand the history of the echinoderm clade. In addition, the study of novel forms of locomotion used by these enigmatic groups may have broader practical applications.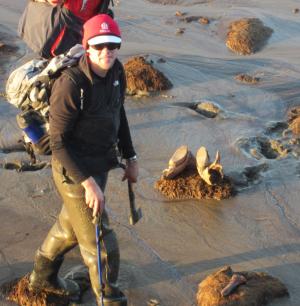 I am interested in the macroevolutionary patterns and trends exhibited by marine animals in the water column during the Paleozoic era (~541 to 252 million years ago). My research encompasses large paleoecological compilations, diversity through time analyses, phylogenetics of early nautiloid cephalopods and early vertebrate fishes (stem gnathostomes), morphometrics, specimen based analyses of material from exceptionally preserved biotas (Fezouata, Mazon Creek, Bear Gulch), and original fieldwork (Cunningham Creek, Chinle). In the past I have worked on woolly mammoths and the Pleistocene megafaunal extinctions.
---
Recent former students and postdoctoral associates
Ross Anderson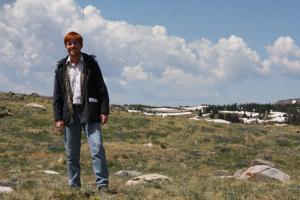 I am interested in the co-evolution of life and environments. I plan to investigate the relationship between Earth's physical, chemical, and biological records through geologic time. Physical features of sedimentary rocks and biogeochemical signatures provide evidence of paleoenvironments, allowing us to learn how Earth has changed. I will explore how environmental proxies correlate with changing morphologies and inferred physiologies of fossils, to further understand how life and environments have evolved together.  To date my research has centered on the Neoproterozoic Era (1000-542 Ma), a period that saw large perturbations in both environment and biology. In particular, I have worked on probable new records of eukaryotic diversity within the Scottish Dalradian Supergroup.  I have recently initiated new projects in southwestern Mongolia and Scotland using experimental, analytical and field methods to investigate taphonomy of eukaryotic microfossils during both the Neoproterozoic Era and during the Cambrian Period when biomineralising forms diversified. Understanding the preservational biases enables us to reconstruct patterns of diversity temporally with respect to environmental change and to refine biostratigraphy of these intervals.  Other areas of active research include the visual system of Silurian eurypterids and biological controls on modern ooid formation.
Simon Darroch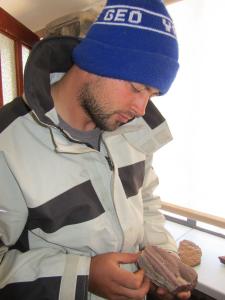 I am currently pursuing two main research directions: 1) the paleoecology and evolution of early animal communities, and how they affected sedimentary environments and ocean structure; and 2) the impact of mass extinctions on ecosystem structure and function, and how these lessons help to interpret present-day patterns of diversity loss.
1) The Ediacaran-Cambrian transition is a critical interval in the history of life, marking the explosive radiation of complex animals that have since dominated the surface of the planet, with the concurrent disappearance of enigmatic Ediacaran organisms.  I am working on Ediacaran sections in central and southern Namibia, where both latest Ediacaran and earliest Cambrian rocks are exposed in unparalleled volume and lateral extent, making this is an ideal area for investigating questions in Ediacaran-Cambrian geobiology.
2) Most analyses of mass extinctions have neglected the spatial dimensions of diversity change. One of the most fundamental biogeographic patterns is beta diversity, which describes variation in taxonomic composition across space. Quantifying beta diversity is central to understanding changes in the spatial distributions of species, and underpins much of conservation theory and practice. Most recently I have been investigating the responses of beta diversity to pulses of Ordovician-Silurian extinction at local, regional, and global scales, with a view to building predictive models for current/future biodiversity loss.
Simon Darroch is now Assistant Professor at Vanderbilt University in Nashville, Tennessee.
James Lamsdell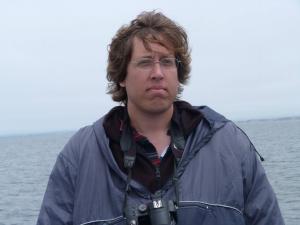 My research interests centre around exploring patterns in macroevolution and macroecology through a phylogenetic framework. My work specifically focuses on Palaeozoic arthropods, with a particular focus on aquatic chelicerates (eurypterids and xiphosurans). I have a specific interest in applying phylogenetic methodologies to fossil groups, both to resolve issues of arthropod systematics and to tackle broader macroevolutionary questions, especially surrounding mass extinction events. My work combines phylogenetic and morphometric analyses to quantify patterns of morphological change in response to extinction events and subsequent recoveries, and compares changes in evolutionary rates and ecological preferences to search for selective patterns across these events and subsequent recoveries. With these data I am able to explore how different evolutionary lineages respond to different extinction forcing mechanisms.
I am currently studying specimens from a series of Ordovician Lagerstätten, particularly from the Winneshiek Shale of Iowa and Fezouata in Morocco, some of which represent the oldest known eurypterids. The Ordovician is a particularly important period of geologic time, witnessing the transition from a predominantly Cambrian-type fauna to the more typical Palaeozoic fauna. Aside from my work on eurypterids and macroevolutionary research, other research interests include: the importance of lagerstätten for informing on arthropod evolution; studying evidence for arthropod development in the fossil record and the role of heterochrony in arthropod evolution, including the importance of ontogenetic data for phylogenetic analyses and calculations of morphospace; the relationship between diversity, morphological disparity, and ecological variety; and the generality of ecological preferences across and within clades.
My research interests lie in taphonomy, specifically decay and diagenesis in the formation of plant fossils. Fossil plants aid in the reconstruction of ancient environments, climates, and the evolutionary trajectories of major plant lineages.  Understanding the taphonomic filters that affect the formation of plant assemblages is critical to interpreting the information held within the fossils. For my doctoral research I am exploring different aspects of exceptional plant preservation, using fossil-based and experimental approaches. My thesis projects explore: An exceptionally preserved flora from New Caledonia; differential decay rates of land plants (bryophytes + tracheophytes) as an initial control on the plant fossil record; the role of clay minerals in the preservation of leaves in coarser grained sandstone (e.g. Dakota Sandstone); and the role of decay in promoting silicification.
My research focuses on exceptional fossilization within carbonate concretions.  In particular, I am investigating how the process of concretion formation affects decay and mineralization to promote soft tissue preservation.  This includes statistical analyses of data from the literature on concretion sites, geochemical analyses of fossiliferous concretions, and laboratory experiments to test how some of the factors affecting concretion formation impact decay and mineralization.  I am currently studying the Mazon Creek concretionary Lӓgerstatten.
Sean McMahon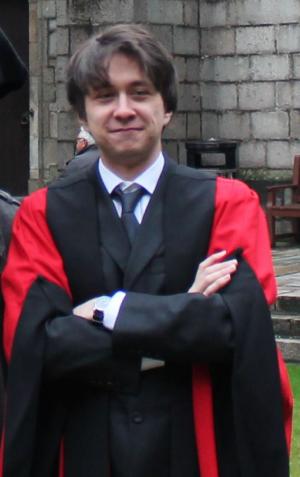 I am a geobiologist and geomicrobiologist with broad interests in early life and astrobiology.
At Yale, I am developing new experimental techniques for examining the interplay of decay and mineralization in the formation of exceptionally preserved fossils. Microorganisms, chiefly fungi, bacteria and archaea, are critically involved in both of these processes and interact multifariously with the physical, chemical and mineralogical environment of the decaying carcass. Unpicking these complex interactions requires novel applications of microbiological and histological techniques. The results could greatly improve our understanding of biases in the Precambrian fossil record, in particular that of the well-known Ediacara biota, which consists of the oldest known complex multicellular organisms on Earth.
Other research interests include the origin of life, Precambrian microfossils and other biosignatures, the geobiology of the deep subterranean biosphere, and the possibility of life on Mars.
Erin Saupe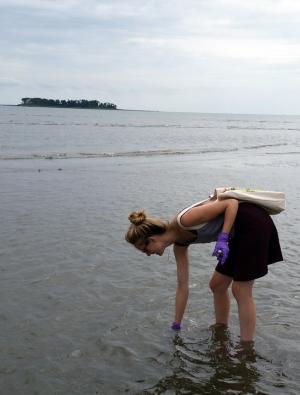 The goal of my research is to explore how life evolved on our dynamic planet, with emphasis on understanding how biogeographical processes impact macroevolution. Specifically, I am interested in elucidating the controls on species' responses to environmental change, and I do so by integrating biological data with information obtained from the fossil record. Although spiders are my true passion, I use mollusks for most of my macroecological and macroevolutionary research because of their exceptional fossil records.
My current work investigates the controls on biotic turnover events, with focus on the post-Pliocene regional mass extinction that occurred in the southeastern USA. I am working to explicitly and quantitatively test if temperature changes generated observed patterns of biotic turnover using both empirical and simulation data. Analyses will determine the factors that led to the biotic turnover, which is vital for understanding current and future diversity changes, and will also identify whether species' niche characteristics (e.g., niche breadth) impact evolutionary outcomes.
In addition to my macroevolutionary research, I am working to clarify macroecological concepts and theories, particularly as they relate to the application of Ecological Niche Modelling (ENM). Current research focuses on understanding the relationship between genetic distance between geminate species pairs and niche differentiation.